A stunning teen book – unlike any other – The Siege of Reginald Hill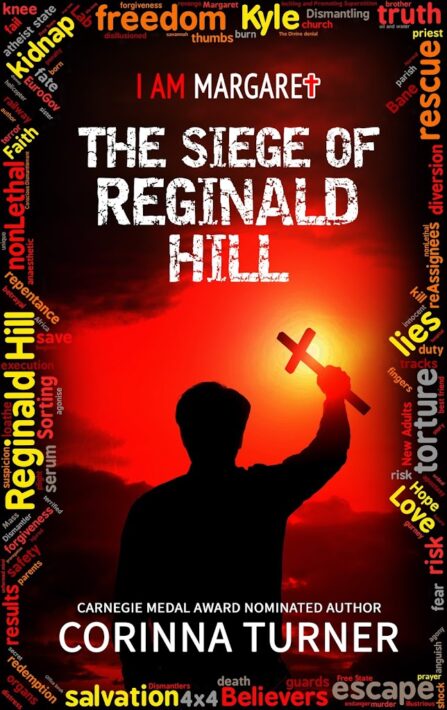 Well, I've broken my blog silence since National Poetry Day, as I've been happily occupied with creative writing projects on a brick brutalist housing estate in Colindale and other contrasting workshop experiences, (such as a gourmet cheese and wine poetry and photography event in Pistachio and Pickle, Islington) to tell you about a book that I think everyone should read.
I read it at a single sitting and if you can see the pages through the tears, I'll be very interested to hear if you think there are such possibilities of the human heart expressed in any other teen book on the market, anywhere, unless of course it is written by Corinna Turner.
It's impossible not to want to find out how the central characters – the young priest and his torturer – resolve their extraordinary relationship. It's remarkable to find revealed from the very early pages of the book, experiences of grace, so convincingly described and in such hostile settings. It's also impossible not to want to have the qualities that the main character displays and it will stretch the desires of anyone reading, whether teen or adult.
So I'm not going to describe the dystopian world of the series, because when it begins, the Sorting of humans for recycling is a thing of the past. Faith is now legal but hatred and resentments remain that will find a horrific expression, but lead to encounters of the most incredible tenderness.
If this book is in the Christmas stockings of teenagers, or of adults who feel jaded or sceptical when hearing about sacrifice, heroism or the unimaginable greatness of Love, then it will be just where it needs to be. Rarely are such experiences packed into compelling page-turners, so make a list of people in need of an emotional and spiritual boost and include yourself on the list, because you'll be amazed what you discover in your own heart, as you make your way to the final page.
You can buy it in print or kindle version here
Corinna – you're a wonder – and I'm still remembering with fondness the chats in your camper van with tea, as the rain beat down on the roof, in a very muddy field in Norfolk. So glad to have discovered both you and your writing. I'm now off to get the rest of the series which, can be found in the CTS shop in Victoria, but also here.