When Joy Begins! – a Bardic Mic night for National Poetry Day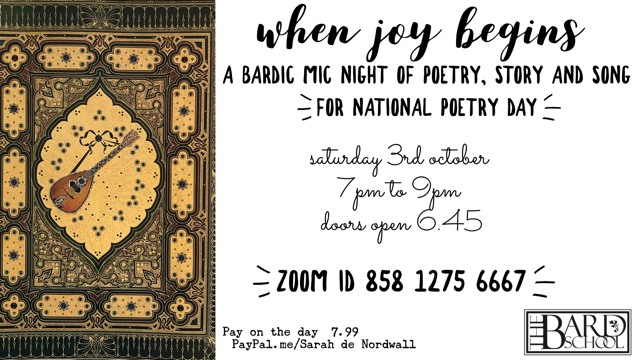 Since Corona Time began, the bards of the bard school have begun to meet again, but online. And now this is the 4th of our Bardic Mic nights that have been providing a 'beautifying surplus of soul' on a Saturday night, every 6 weeks.
We'd love to invite you to join us for a delightful night of original poetry, story and song, with the opportunity to meet the bards and new friends in the breakout rooms between sets.
As the old Jewish prayer, that inspired our title, goes –
'It is already night when joy begins,
The Sabbath is at hand
And a beautifying surplus of soul
Visits our mortal bones
And lingers on."
Is your soul hungry for the company of bards? You're in luck! We are sure that your creativity will be awakened and your heart lightened.
We look forward to seeing you there when doors open at 6.45pm UK time
and may the enchantment begin.