National Poetry Day celebration on Saturday October 3rd – When Joy Begins
The Bards of the Bard School and friends would love to invite you to their 4th Bardic Mic Night since lockdown… held on zoom, but surprisingly nonetheless soulful and nourishing!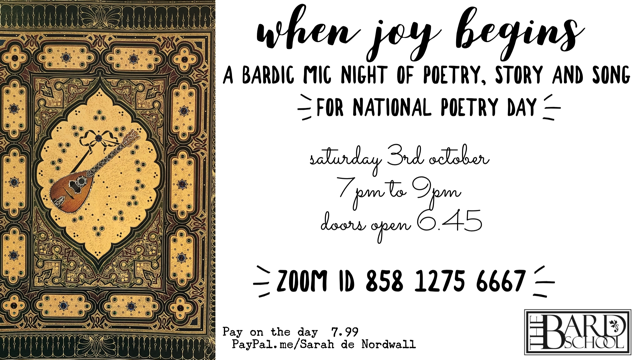 The theme of National Poetry Day this year is Vision…
Our mic night name comes from a beautiful Jewish prayer that I was taught by Carmelite hermits when I travelled to Nova Scotia many years ago.
"It is already night when joy begins
the Sabbath is at hand
And a beautifying surplus of soul visits our mortal bones
And lingers on."
And may it be so with you.
See you there! Saturday 3rd October doors open 6.45pm UK time.
Zoom ID 858 1275 6667
Pay on the Day.