Who's on Your Street of Prophets?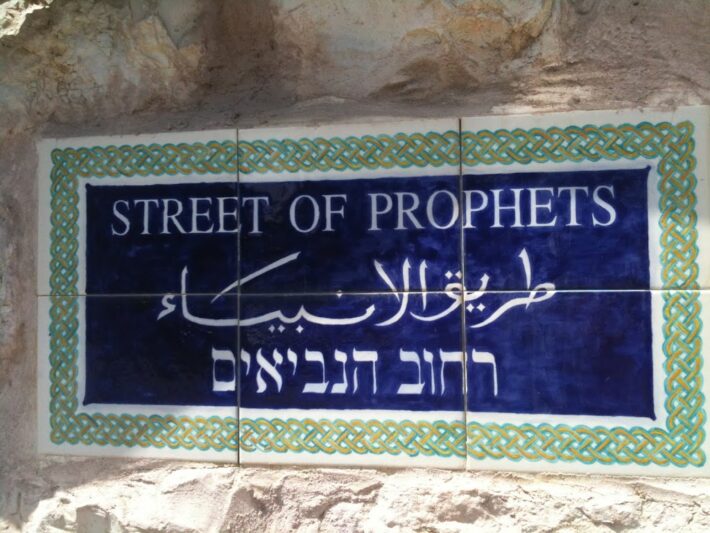 Well I couldn't resist photographing this gorgeous ceramic street plaque in Jerusalem, and I was thinking today – who lives on the street of prophets? I was also wondering who you would nominate for your street of prophets.. Don't worry we aren't going to be eliminating anybody if they don't play Amusing Party Games to our Satisfaction on Live TV. I was just thinking it might be good to meditate on what a prophetic person today would be doing, seeing, earning, giving, investing, creating.. and what DOES prophetic really mean?
Off the top of my head, I'd say it meant speaking the truth, expressing the truthfulness of being, being at the cusp of events in order to penetrate them to new depths for the purpose of enlightening others and awakening society, being an embodiment of such insights, being a beacon to lead others into greater truthfulness and freedom.
A prophet is someone who leaves you with the feeling of having seen something with God's eyes, glimpsed newly. I think traditionally, a prophetic life involves hearing from God in such a way as to receive an imperative command to communicate whatever message God wants conveyed, using the means He inspires. Check out how many different forms of 'art' Ezekiel uses! I counted them once..

So here's my question, what are the prophetic people and artworks that are influencing you now?

I'll mention a few of my favourites to get it rolling..seen as we are in the season of BAFTAs and BRIT awards:
Most prophetic person I've met and been inspired by would be Jean Vanier, founder of L'Arche. And he ties with John Paul II whom I was in a small audience with 3 times. Definitely a life-defining encounters.
Most prophetic novel that keeps coming back to inspire me, Middlemarch. If life is every tiring me, I read the last 3 chapters.
Most prophetic film, …er you are going to laugh, but the first one that comes to mind was one I saw when I was a child, and as I never read the Bible and didn't go to church then, I was STUNNED by Cecille B de Mille's 'The Ten Commandments'. I will never forget my horror at the moment when Moses came down the mountain and discovers the people worshipping the Golden Calf. An overwhelming scene that had me transfixed, years before I ever went to Church or knew what people did there.
So there's a few! Looking forward to hearing more of those personal Icons on Revelation..
Please inspire us!